Clairvaux MacKillop College Visit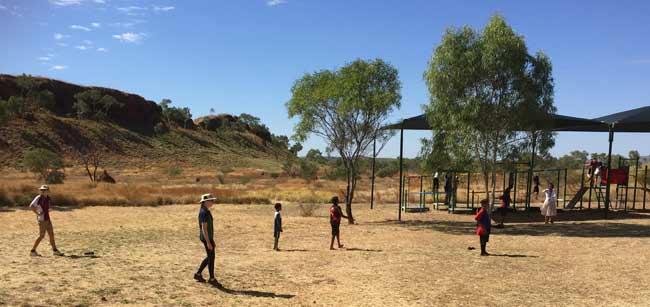 On Thursday 29th June 2017 students and staff from Clairvaux MacKillop College, Upper Mount Gravatt in Queensland visited our school.
Warluwurru put on a morning tea, Father John, the Warlawurru community and Clairvaux Mackillop College celebrated the Missa Kimberley and the best part according to our students was the time spent playing sport and talking to the older students during recess.
Miss Katherine signed their Pilgrim Sticks on behalf of all the students and staff, wishing them safe travels on their pilgrimage.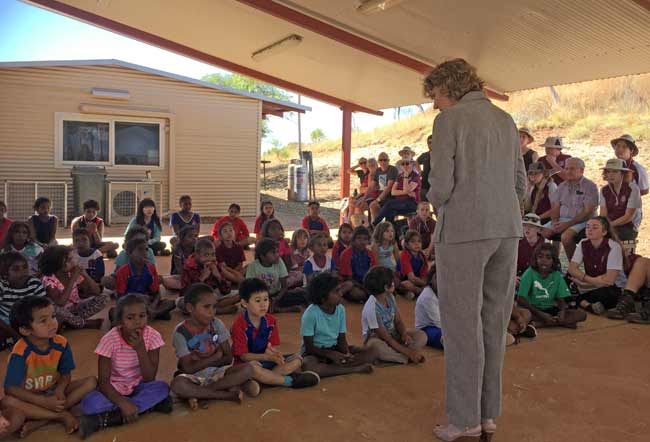 Here is an excerpt of the appreciation letter they sent. …we would like to take the opportunity to thank you for your amazing welcome at Warlawurra. From the lavish morning tea, the smoking ritual, the joyful Mass celebration (our first and only experience of Missa Kimberley), the cultural experience of BBQ Kangaroo Tail, and the time in the yard playing with your students, the entire experience was both wonderful and amazing. One would have to be blind not to see the Spirit alive in your singing and actions in the liturgy. We were certainly drawn into celebration and our hearts were changed because of it. Our students couldn't stop talking and telling stories about what your students did and said in the playground either. Some funny tales were told.
Please pass on our most sincere appreciation to your entire school community. How blessed it is. Thanks you for sharing this with us. It was a significant part of our pilgrimage.